Campervan Rental – Asheville Style!
Set yourself free from the constraints of four stationary walls.
Your adventures don't stay in one place, why should you?
If you've wanted to experience van life for yourself, but you're not quite ready to buy a van and hit the road… no worries! Now you can rent a campervan in Asheville! It's a beautiful place to experience nature, art & culture, amazing food; and is a fantastic base camp for all your adventures.
And if you'r planning a trek across the US, that's fine too! Our vans are all well maintained and are ready to get you where you need to go in style!
Choose from five different styles of adventure vehicles for your next van camping trip. All of our vehicles are completely outfitted, and ready to go camping.
Our vans have two captain seats swivel 180 degrees, providing access to the rear living area. Indoor/outdoor lighting lets you eat, relax or entertain in style inside or under the skies. Charge your electronics and power your laptop anywhere. Wherever you go, these adventure vehicles make your journey easy and awe-inspiring.
You can trust Urban Escape Vehicles because we've been van camping — a lot — and know just what you need to enjoy your adventure vehicle. Comfort and flexibility are built into each of our vans.
We now offer 4 different van experiences.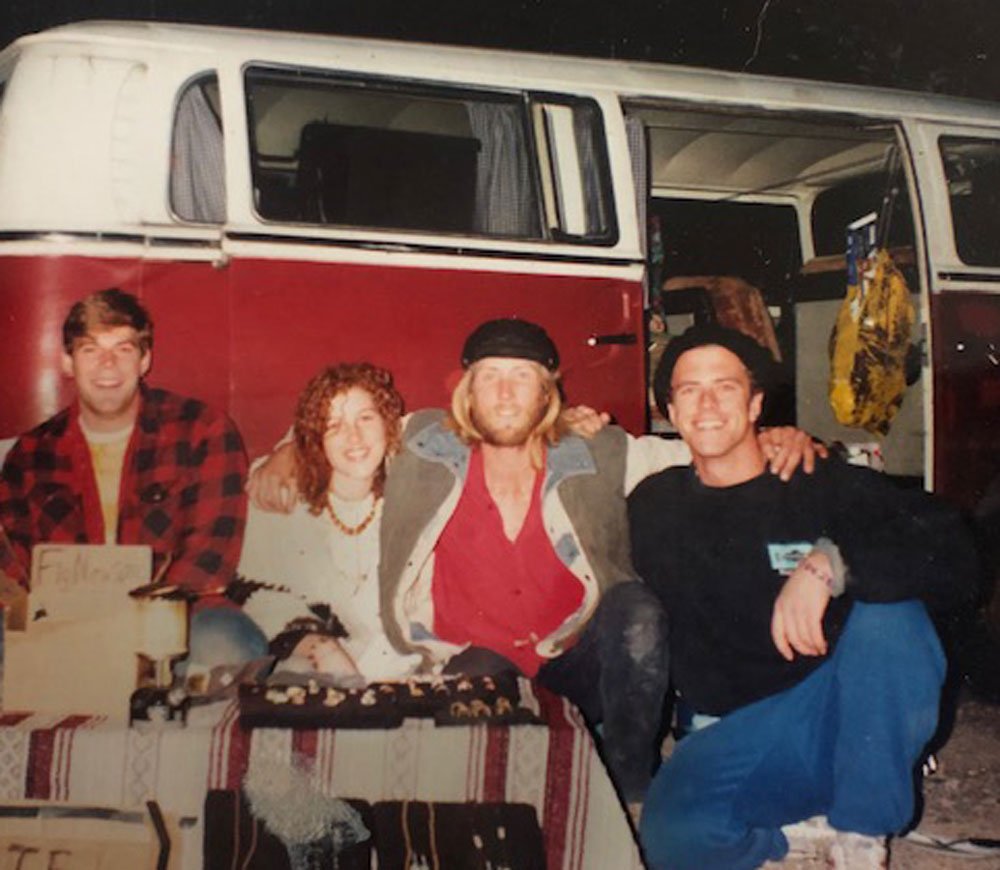 Van Camping for the Best Festival Experience
Back in the 1960s, followers of the Grateful Dead started a movement that continues today: turning outdoor festivals into overnight parties, sometimes for days and even weeks on end.
Van camping really hit the festival scene with the Volkswagen bus at Dead shows. The first generation of VW buses was built in 1950 and continued to be popular among festival-hopping hippies until the last VW campervan rolled off the assembly lines in 2014. You still see these VW campervans at festivals, but as the technology has improved, so have the newer vans. The demand is due to the growing allure of vanlife, and the intense interest in discovering the freedoms of van camping.
Why Camp at a Festival?
While the masses will attend a music festival and spend hours in close quarters with other festival-goers without a break from the crush of the crowds, you can join the vanlife club and luxuriate in all the amenities a camper van rental has to offer. If the vanlife enthusiasts always seem to be having a bit more fun than the rest of the crowd as they take in the sights and sounds, it's because they are!
Consider the many benefits you'll enjoy while others bake in the sun or shiver in the rain. Privacy is difficult to achieve at a music festival. But van campers have the ability to retreat to their camp for a break from the crowds. Van camping enables festival-goers to bring their food, stoves, extra clothes, comfy beds, and to get out of the elements. A stocked camper van rental, like the kind you get at Asheville-based Urban Escapes Vehicles offers:
Affordable rates that cover both your costs of transportation as well as your lodging at the music festival
A kitchen area with a stove, allowing you to cook the food you want, when you want it — saving on food costs
A cooler or fridge to keep beverages cold
Instant camp: no need to pitch a tent — you just park and you're home. 
Security: lock your stuff up and go enjoy the show
Comfortable bed(s) with pillows, sheets and blankets (you're comfy and dry, rain or shine)
All the camping gear you need — a campervan rental comes with towels, pots & pans, dishes, utensils, table and chairs 
A cabin battery to power your laptop and charge your electronics
The convenience to enjoy your beer and not have to drive after the show 
Stylin' décor like string fairy lights and a bluetooth speaker to make your campervan rental the ultimate party spot
Popular Music Festivals to Check Out
Just a few of the popular festivals to check out in the Blue Ridge Mountains and Western North Carolina region include:
LEAF is a regional treasure. The Lake Eden Arts Festival has become so popular that the event is now held twice/year, in the Spring & fall. The festival features vendors, art, family-friendly activities, and a terrific lineup of musicians.
French Broad River Festival is held each year in early May in beautiful Hot Springs, North Carolina. This event is a blast, and benefits American Whitewater, The Verner Center For Early Learning, & The Hot Springs Community Center. 
Cold Mountain Music Festival features top-notch musical talent, amazing local food & drink vendors, family friendly activities, and more all in one of the most pristine settings imaginable. The centerpiece of the almost 300-acre property is a mile-long lake surrounded by the Shining Rock Wilderness Area of Pisgah National Forest.
MerleFest which features artists like Willie Nelson, Allison Krause, John Prine, and Melissa Etheridge, was founded in 1988 in memory of Eddy Merle Watson. It is an iconic celebration of traditional American music styles. 
Sports festivals and other gatherings
Perhaps you'd like to gather with the Scottish clans at the Highland Games festival on Grandfather Mountain, or join the fly fishing tournament in Cherokee. Maybe you're inclined to attend the multi-day Banff Film Festival in Brevard, or establish your base camp at a mountain biking festival. Whatever type of festival you enjoy, you'll be camping in style and comfort with a camper van rental from Urban Escape Vehicles.