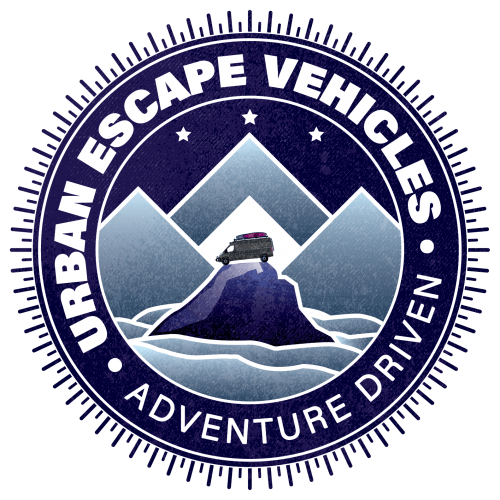 Renting a campervan for an epic road trip across the country, adventuring through the region, or even just glamping around the neighborhood festival scene is an ideal way to test vanlife  to see if it's the right fit for you.  Renting a camper van or Class B RV provides convenience and comfort far above what is offered by traditional tent camping. But not everyone loves adventure, so it is important to consider whether you enjoy camping, or even perhaps "glamping." Glamping means different things to different people, to some it's:
A climate-controlled RV
A rustic hotel in an out-of-the-way spot
A cabin in the woods
A tent with an air mattress
Anyplace with a nearby shower
But if you're a little curious about van camping for a truly unique adventure, the staff at Urban Escape Vehicles  is here to answer your questions. Some of the more pertinent inquiries we've received include:
How many miles are included in a day's rental?
The first 100 miles per day are included, with additional mileage charged at $0.35 per mile thereafter.
Am I responsible for damage?
Your insurance covers major damage to the exterior of your camper van rental, but it doesn't cover damage to the interior, nor minor road damage like windshield or tire damage. If you're in an accident, call the police (911) and then call us at 828-772-1097. For minor damage that doesn't involve another vehicle, just call us.
Is my stuff covered by insurance?
Urban Escape Vehicles is not responsible for your stuff. Protect your things by locking up every time you're away from the vehicle. If anything happens on the road, call the police (911) and then call 828-772-1097.
Who can drive the van during my road trip adventure?
Only licensed drivers listed on the rental agreement can drive the van. If someone not listed on the agreement has an accident, they will not be protected by insurance, and will be personally responsible for damages. (Best to ensure that anyone who might drive the van is listed as an additional driver on the agreement.) 
What if the van breaks down while glamping?
Urban Escape Vehicles does their best to get you back on the road promptly. If necessary, they'll refund the remainder of your booking and help you to find alternate accommodations.
What if I have to cancel my camper van rental?
Full refunds are given for cancellations made at least 30 days prior to the rental period. If you cancel at the last minute, the van can't be rented again, so you're charged a portion of the rental period. No matter where or what you book, it's best not to cancel at the last minute. For full cancellation policies, see #11 on our Terms & Policies page. 
Do you require any deposit?
There's a $500 damage deposit. Your deposit will be returned when you bring the van back in good condition. There's also a $25 non-refundable cleaning fee. Extra mileage comes out of the deposit, but if you exceed that amount, you're still responsible for all charges.
How much fun is a camper van rental?
Lots!
Can I bring my pets?
Yes. Pets are welcome in the adventure van, and are approved for the Class B RV on a case-by-case basis. There's no additional fee for bringing your pet in the adventure van. However, your insurance doesn't cover damage to the interior of the camper, so you would be charged directly for any interior damage. Optional additional damage insurance is available at $20 a day.
What are your privacy policies?
We collect your location, IP address and browser type for purposes like estimating taxes and shipping on merchandise or to improve our website and services. We ask you for your address so we can complete your booking or ship merchandise. We also use website cookies to keep track of cart contents while you're browsing our site. If you create an account, we store your name, address, email and phone number, which is used to populate the checkout for future orders. We do not sell your contact information, but may share it with third-party services as needed.
What information do you store?
We store comments or reviews if you choose to leave them. We collect driver's license information to ensure that we're renting to a qualified driver.
What information do you need for purchases?
When you purchase something from us, we ask you to provide your name, billing address, shipping address, email address, phone number, credit card/payment details and optional account information, such as your username and password.
We use this information to:
Send you information about your account and order
Respond to your requests, including refunds and complaints
Process payments and prevent fraud
Set up your account for our store
Comply with any legal obligations we have, such as calculating taxes
Improve our store offerings
Send you marketing messages, if you choose to receive them
How long information is information stored?
Urban Escape Vehicles generally stores your information for as long as we need it. We're not legally required to continue to keep it after that. For example, we store order information — such as your name, email address and billing and shipping addresses — for three years for tax and accounting purposes.