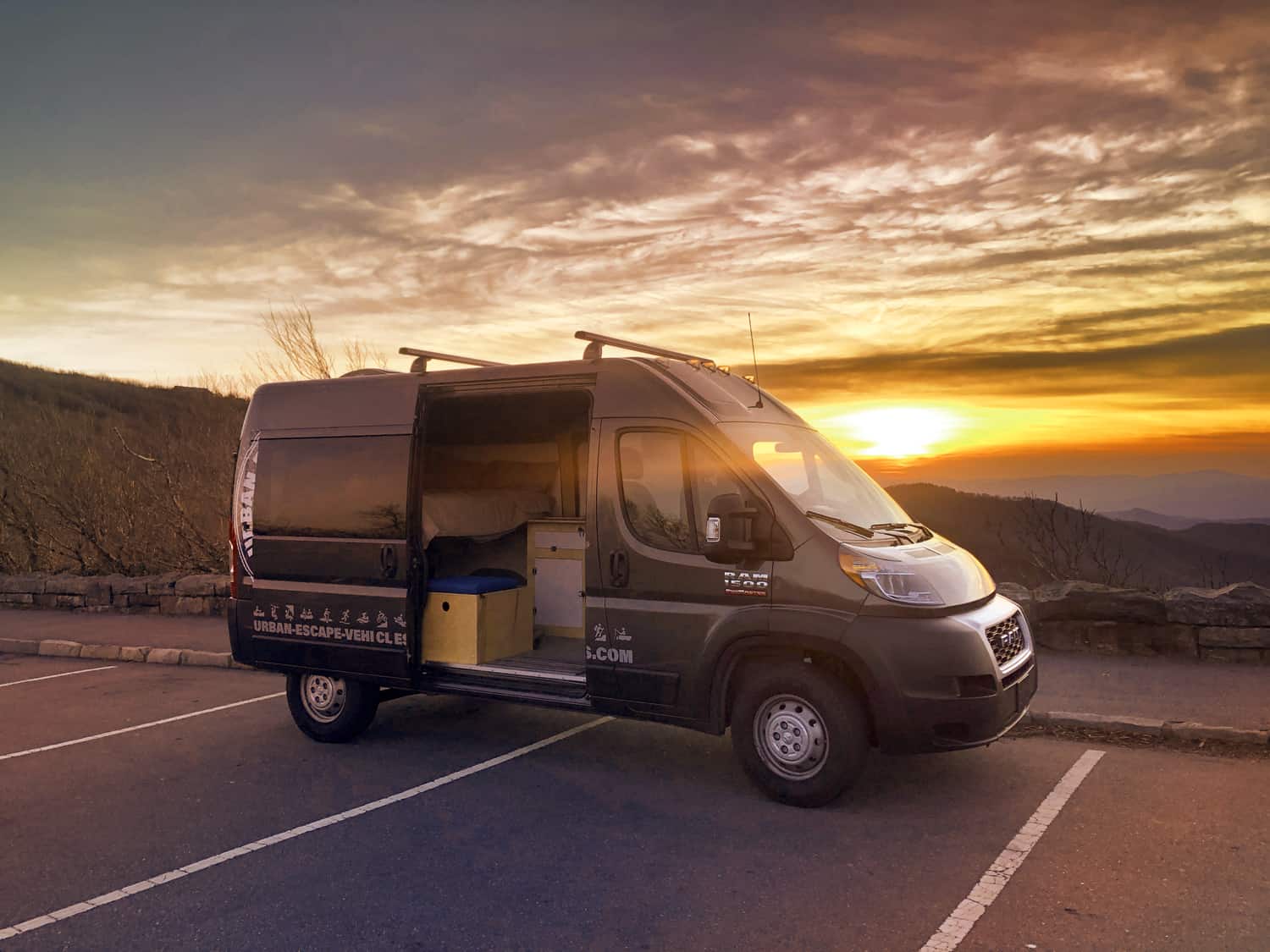 Welcome To Your Mobile Base Camp
The Urban Escape Vehicle is where your adventure starts
Renting an Urban Escape Vehicle is just the beginning to your journey. Our campervan serves as the perfect basecamp for your adventures. It's like a rental cabin that goes with you, so you can camp where you play (or play where you camp!)
There is plenty of room for all of the equipment needed to get lost in an unforgettable experience. And the camper van is already stocked with everything you'll need to support your trip.
You'll be amazed at how well the van handles, and you'll find the 36-foot turning diameter to be especially helpful when pulling into your camping spot. The van is roomy, and yet fits in a standard parking space.
THE COCKPIT
The van has two captain seats that provide comfort and flexibility and can rotate 180º, allowing you to access the rear of the van while seated.
The stereo has SirusXm radio, with over 100 stations that provide news, sports and channels for whatever type of music you need as the soundtrack for your adventure.
The van is equipped with a rear-view camera for backing into tight spots as well as an in-dash navigation system. You can also use the hands-free phone that uses a wireless Bluetooth connection to pipe your calls into the van's speaker system.
There are multiple USB plugs that provide charging for your electronic devices. And there are lots of cup holders, dash storage and lots of legroom.
THE KITCHEN
The kitchen comes equipped with a portable camp stove, as well as a folding dining table and two chairs. We recommend cooking outside, so that you don't steam up your cozy home. (If you need to cook inside, we suggest having the windows and ceiling fan open while cooking. It is important to have ample ventilation as the stove burns propane which creates carbon monoxide.) Pots, pans, cups, plates, flatware, wine glasses and cooking utensils are provided, so you'll be able to enjoy the food you want, when you want it. Indoor/outdoor lighting is also provided.
Keeping your food fresh is extremely important, so we've provided a roto-molded cooler that holds ice for several days. You'll just need to grab your groceries and some ice, and you'll be ready to hit the road.
The pump sink & gray water tank provides running water; and the counter is the perfect place to prep your meals or do a little work. (We highly discourage work… it tends to get in the way of having fun.)
There is also shelving above the counter and either side of the bed that allows a place for you to keep your things. Keep in mind that this cabin goes with you… so always secure your belongings before traveling.
A string lighting system provides soft light throughout the cargo area. Each individual light and be switched on or off so you have complete control of the environment.
THE CARGO AREA
For privacy, the cargo windows (side and rear) have insulated covering that provide complete blackout of the windows as well as adding thermal protection form those cold nights. You'll also have a privacy curtain that can separate the cockpit from the cargo area. This is great to use when one of you wants a little rest and the other wants to do some reading.
There is storage under the counter and a mounted box just inside the cargo door. The van is equipped with a car alarm, and we recommend that you always lock it up when you're off adventuring.
There is plenty of space under the bed. Kayaks, bikes, and other gear can be safely stashed inside! If you need additional space for boats, there is a kayak rack on top. Let us know in advance if you will be using the rack so that we can provide a ladder system. Inside, you'll have room to change out of your adventuring gear and then get cozy at base camp.
The cargo area measures 77.1″ high by 75.6″ wide by 122.8″ deep. That allows anyone 6'4″ and shorter to stand straight without having to tip their head.
THE SLEEPING AREA
The full-size bed provides ample room for two adults. If you prefer separate bunks, the lower section of the van can accommodate a second sleeping area.
The van is equipped with a roof vent. This runs on a separate battery, and can run all night. It will either blow air down onto the bed, or draw air out of the van. It has a rain hood and can operate in any weather.
The bed can also be folded up to provide a couch-like place to snuggle up with a book and a cup of tea. We provide sheets, a blanket and comforter as well as pillows and pillowcases. In the event that you will be traveling during extremely cold weather, we encourage you to bring your sleeping bags.
BATHROOM ITEMS
A solar shower is provided. Just fill the bag ahead of time, and hang it from the roof rack in the sunshine to warm up your water.
You'll be provided with a set of two bath towels, hand towels and washcloths. (Please don't use them to clean your muddy boots!)
We recommend using the bath house at a campground and/or public toilets. However, if you prefer to have your own on-board potty, you can rent (for an additional cost) a portable toilet. You'll be responsible for cleaning it prior to returning the van. If we have to clean it, we'll charge a cleaning fee.
OUTDOOR LIVING
We provide two folding camping chairs and a folding table to expand your living room outdoors. You can also use the string lighting from the cargo area to add some ambiance to your camp. Headlamps and extra batteries are also provided.
ADDITIONAL ITEMS
Bringing bikes? Renting bikes? We can add a 2-bike rack for an additional charge.
Have a four-legged companion you'd like to take along? We do allow pets, but they must be pre-approved and require an additional pet fee per animal (2 pet maximum). Keep in mind that any damage or additional cleaning needed as a result of your pets will incur charges depending on the severity of the work needed to make things right.
Coming soon: Chef-designed meal kits! Your cooler will be stocked and you'll be ready to hit the ground running with tasty, nutritious meals already prepped for you. Call for 828-772-1097 for more information.
To see a complete list of items provided please see our rental page.