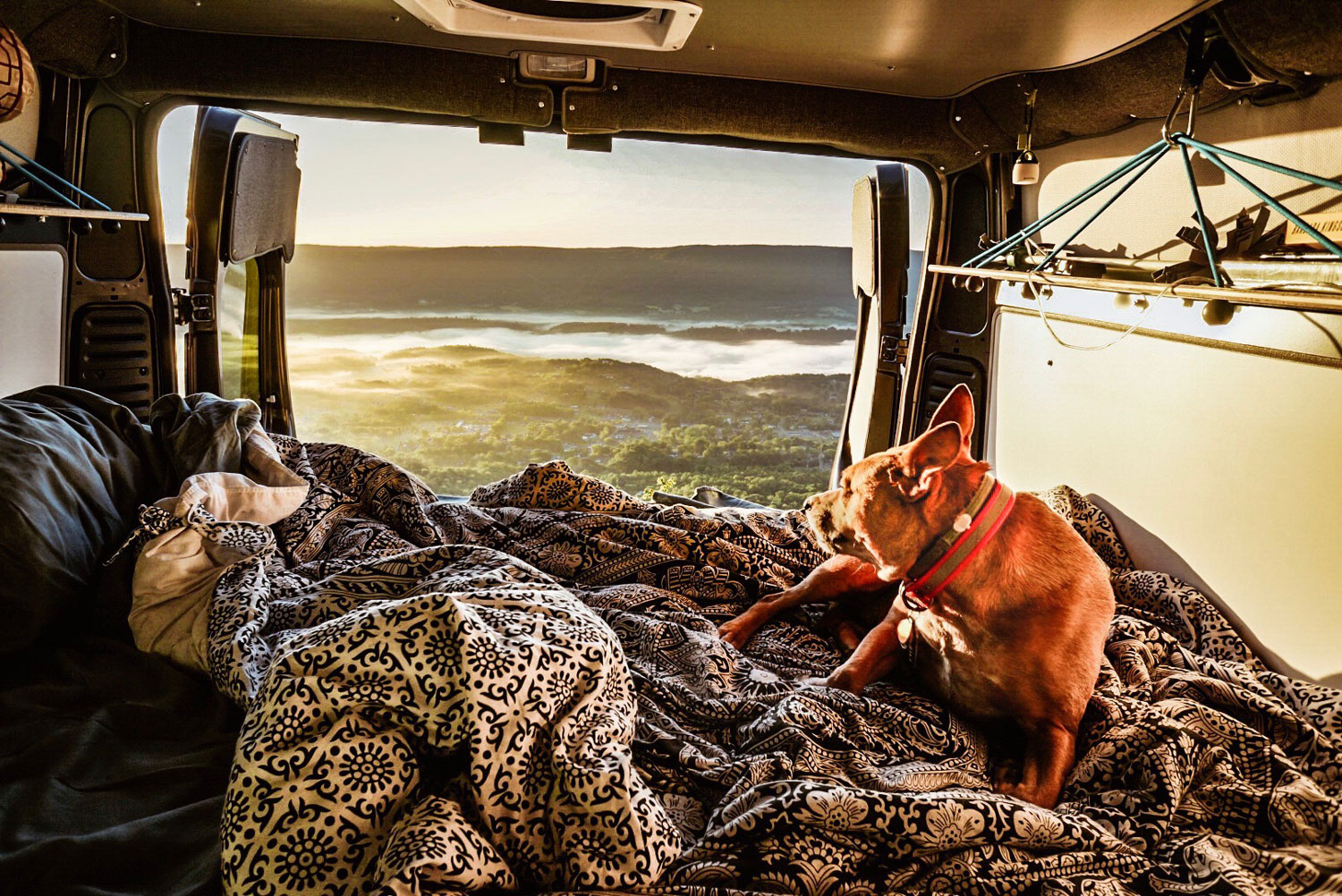 Welcome To Your Mobile Base Camp
Your Adventure Starts Here
If you're looking for a new way to experience the mountains of the Blue Ridge, or just visiting Asheville, you'll find that our campervans serve as the perfect base camp for any adventure. It's like a rental cabin that goes with you, so you can explore more. Camp in comfort, travel in style — with vanlife, you're always home. 
Our Vans
Choose from two different styles of adventure vehicles for your next van camping trip. Both styles are completely outfitted, and ready to go camping. 
Inside, the vans are roomy. Two captain seats swivel 180 degrees, providing access to the rear living area. Indoor/outdoor lighting lets you eat, relax or entertain in style inside or under the skies. Charge your electronics and power your laptop anywhere. Wherever you go, these adventure vehicles make your journey and adventure easy and awe-inspiring.
You can trust Urban Escape Vehicles because we've been van camping — a lot — and know just what you need to enjoy your adventure vehicle. Comfort and flexibility are built into each of our vans.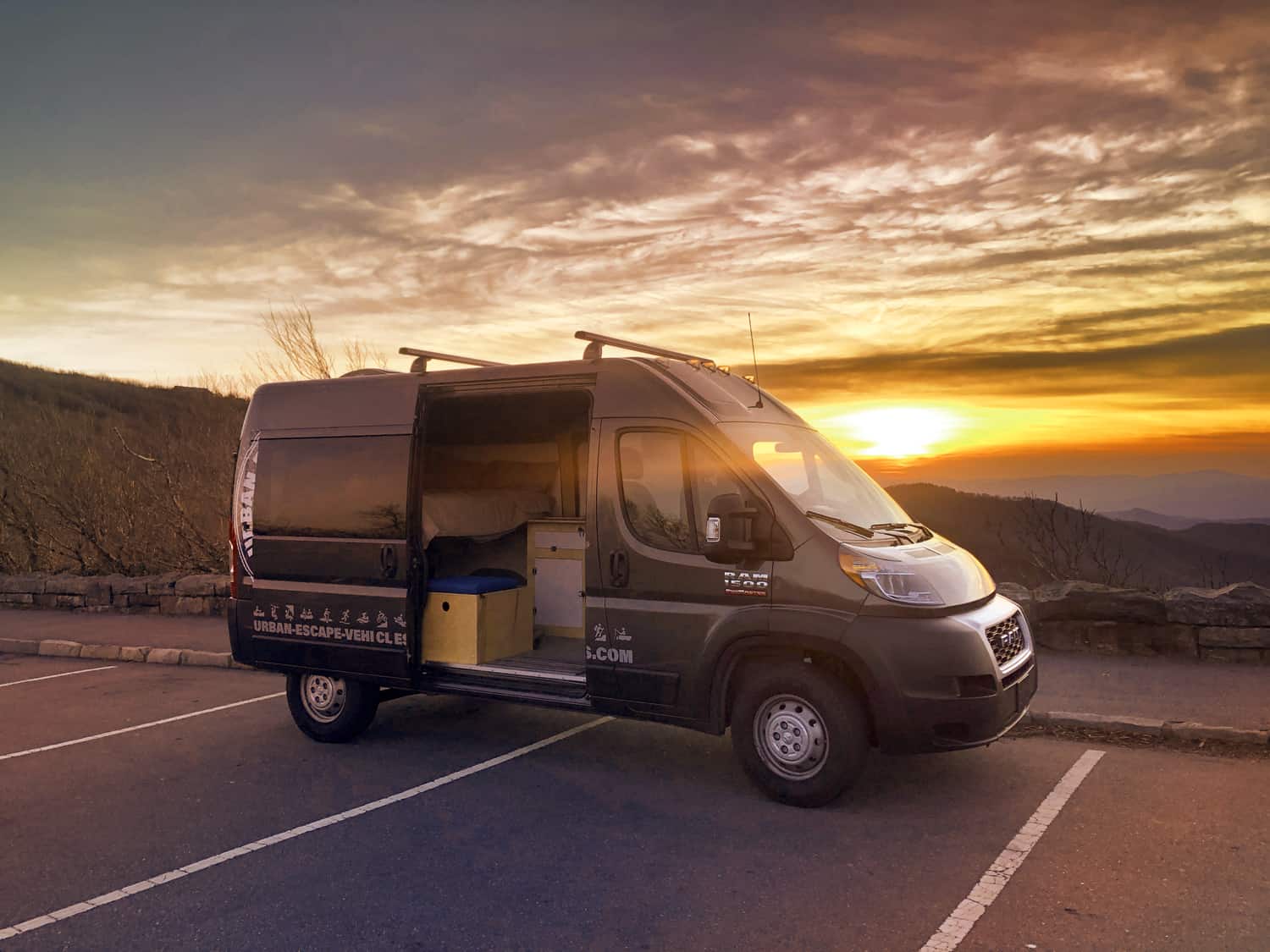 UEV 1: 2019 Promaster
Custom Built Campervan
Our Dodge Promaster van comes with everything you'll need for a great time. The campervan sleeps two and includes a very comfortable full-sized mattress, cooking equipment & utensils, solar/gravity shower, vent fan, extra battery for electronics/phones, kayak/roof rack, and bike rack if requested. It has plenty of room for all your outdoor recreation gear. It's perfect for any adventure you have planned. Pet friendly.
Radio with audio inputs
Backup Camera
Front seats swivel to rear
Towels/linens/blankets
Dishes/cups/flatware
Ceiling vent fan
One full-size double bed
Portable propane heater
Hand pump sink
Battery with Inverter for cabin power
Portable stove
Roto-molded cooler
Solar/bag gravity shower
Portable bucket-style potty
Indoor/Outdoor lighting
Emergency kit & vehicle kit
Optional bike rack
Optional extra bed kit
Book Now
UEV 2: 2018 Travato
Full Class B RV
Our Winnebago Travato has everything… Including a refrigerator, microwave, and a full bathroom with hot water shower and flushing toilet. The cabin heating and air conditioning is powered by propane, generator, electric, or solar panel. Two single beds can be configured to join into one double bed. This van has all the bells and whistles – even an awning that extends at the touch of a button. Pets require pre-approval.
Radio with audio inputs
Backup Camera
Front seats swivel to rear
Towels/linens/blankets
Dishes/cups/flatware
Ceiling vent fan
Two single beds (can be joined)
Cabin heating & air conditioning
Hot/cold kitchen sink
Generator
Built in stove & microwave
Refrigerator
Hot water shower
Flush toilet
Indoor/Outdoor lighting
Emergency kit & vehicle kit
Bike rack
Awning
Book Now